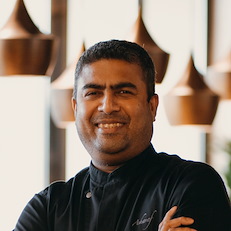 Asharaf Valappil
Chef de Cuisine
Asharaf Valappil
Chef de Cuisine
Chef Asharaf did not become a chef by accident, he had the interest from the very beginning, when he was just a 12-year-old boy, he used to prepare and sell lemonades at local community sports events. It was natural for him to take hospitality as his field of study and vocation. Chef Asharaf is currently a resident of this city of dreams Dubai. With over 18 years of culinary experience, spread across India, the UK, and the Middle East, he had the opportunity to work with many renowned brands. He joined as a Specialty Chef in October 2018 at Indya by Vineet, Le Royal Meridien Beach Resort & Spa, and in November 2021, he rejoined as the Chef de Cuisine at Indego by Vineet.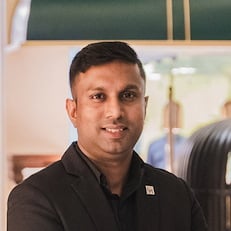 Kiran Kumar
Restaurant Manager
Kiran Kumar
Restaurant Manager
Kiran began his journey in Dubai as F&B assistant at the Sheraton Creek in 2010. In 2013, he joined Indego by Vineet at the Grosvenor House, a Luxury Collection Hotel as waiter and he also worked in Buddha-Bar as bartender. He then decided to move to Abu Dhabi to explore different career opportunities and diversify his skill set. Kiran eventually came back to Indego by Vineet in August 2022 as restaurant manager.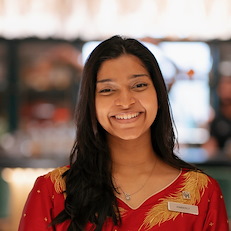 Kimberly Mendes
Senior Hostess
Kimberly Mendes
Senior Hostess
Kimberly was born and raised in the United Arab Emirates. She traveled to India, her home country to pursue a bachelor's degree in hospitality management in 2015. After her graduation, she moved back to Dubai and interned at the JW Marriott Marquis hotel in the F&B department, the internship made her fall in love with the industry. Kimberly joined the team at Indego by Vineet in 2021. Our guests and team absolutely love her bubbliness, spontaneity and genuine smile.