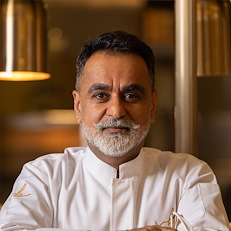 Vineet Bhatia
Chef Patron
Vineet Bhatia
Chef Patron
Born in Mumbai, India in 1967, Chef Vineet got early culinary inspiration from his mother, whom he describes as 'an excellent cook with a fantastic imagination'.
Today, Chef Vineet Bhatia's name is synonymous with creative dining and he is largely considered to be the father of modern Indian food.
He has put Indego by Vineet firmly on Dubai's dining scene and his acclaimed menu ranges from traditional dishes - think of biryanis, butter chicken, naan breads and more - to more modern flavours such as lobster tikka masala and lemongrass prawns.
With bursts of colour and a buzzy open kitchen, Chef Vineet said the Indego has a stronger sense of informality, more akin to his other restaurant in Dubai: Indya by Vineet.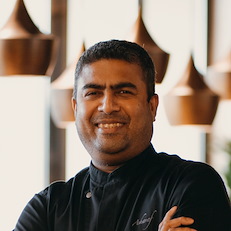 Asharaf Valappil
Chef de Cuisine
Asharaf Valappil
Chef de Cuisine
Chef Asharaf did not become a chef by accident, he had the interest from the very beginning, when he was just a 12-year-old boy, he used to prepare and sell lemonades at local community sports events. It was natural for him to take hospitality as his field of study and vocation. Chef Asharaf is currently a resident of this city of dreams Dubai. With over 18 years of culinary experience, spread across India, the UK, and the Middle East, he had the opportunity to work with many renowned brands. He joined as a Specialty Chef in October 2018 at Indya by Vineet, Le Royal Meridien Beach Resort & Spa, and in November 2021, he rejoined as the Chef de Cuisine at Indego by Vineet.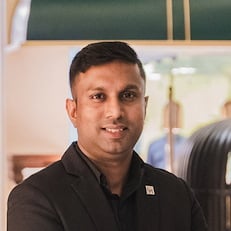 Kiran Kumar
Restaurant Manager
Kiran Kumar
Restaurant Manager
Kiran began his journey in Dubai as F&B assistant at the Sheraton Creek in 2010. In 2013, he joined Indego by Vineet at the Grosvenor House, a Luxury Collection Hotel as waiter and he also worked in Buddha-Bar as bartender. He then decided to move to Abu Dhabi to explore different career opportunities and diversify his skill set. Kiran eventually came back to Indego by Vineet in August 2022 as restaurant manager.